---
COVID-19 Testing and Resulting Software Module
---
Crowd-Safe COVID-19 Testing and Resulting Software Module features a:
Management & Test Module
HIPPA-Compliant Resulting Module
Track Monitor and Act Module
Report & Optimize Module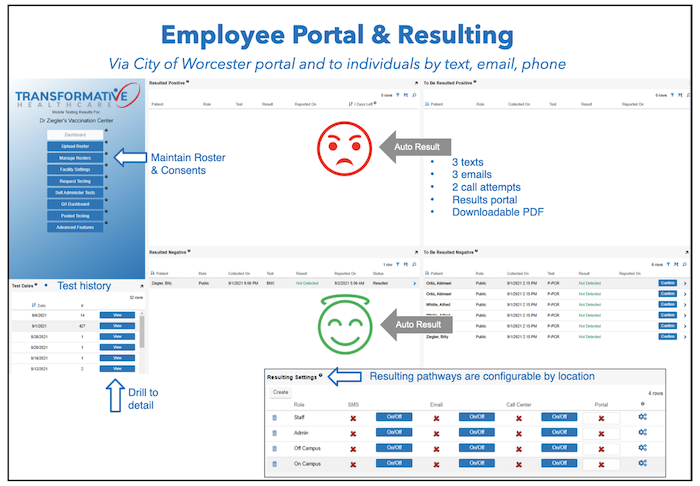 ---
Features & Benefits
---
Test administration and resulting platform that supports multiple testing modalities.
Prompt notification of COVID-19 test results.
Individuals receive notification of test results promptly after lab processing;

Automated text and email to individual.
Optional resulting by phone / voice.
Text and email communications can be personalized in the individuals primary language.
Customizable post-result follow-up messages by text and email.
Single dashboard for simplified risk management that dramatically reduces the administrative burden of managing large-scale COVID-19 Testing.
---
Transformative Healthcare's TRACR and Crowd-Safe.us software platforms are HIPPA compliant and manage COVID-19 services including vaccination status tracking, contact tracing, testing and resulting. The software platform, TRACR, has securely handled millions of patient records and transactions. The system is fully auditable.